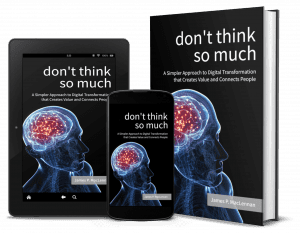 Digital Transformation sounds challenging – too much theory and not enough practical thinking. Complex ideas, nuanced insights, and waves of techno-speak can confuse and complicate things. You may believe that "digital thinking" will optimize your operations, bring you closer to your customers, create compelling new products, and build a highly engaged team. But where do you start? And how can you effectively lead the change?
There is a simpler way of understanding the digital journey – more evolutionary than revolutionary. A clear path, aligned with the goals and strategy of your business (and the people within it), will accelerate your digital plans.
In Don't Think So Much, your path is laid out, with relatable ideas and concrete examples. Familiar patterns will emerge, and a simple, actionable framework will help you orient your thinking and align with these patterns.
You might argue that the process is already underway. We have witnessed an evolution over the past 30+ years, where basic automation, accounting and manufacturing systems, email and e-commerce, and computer-assisted engineering have already made transformative impacts on your operations, your customers, your products, and your employees. But this work often happens in disconnected silos, and is not truly meaningful to the most valuable people in your organization – the ones closest to your customers.
This book pulls together data-enabled ideas that have developed over time, and connects with the newest enabling technology, tying it all together into an uncomplicated picture. Don't Think So Much also focuses on human factors – design, sustainability, and a fully engaged workforce. With practical guidelines for strong leadership and an inclusive approach that leverages the experience of the whole organization, Don't Think So Much will enable a digital transformation that delivers results and creates real value.
This book is for everyone in your organization that wants to cut through the hype and buzzwords, and see things in a simple and actionable way …
… entry-level folks that want to Change How Things Work (and advance their careers)
… mid-level folks that want to Make A Difference (in a relevant and meaningful way)
… senior-level folks that want to Lead, Innovate, and Transform (before they are forced to Follow)
… everyone that wants to Go To The Next Level
Updates
| | | |
| --- | --- | --- |
| Version 1.0 | Loggerhead | First Edition! 17 Aug 2019 |
Link Library
Coming soon …