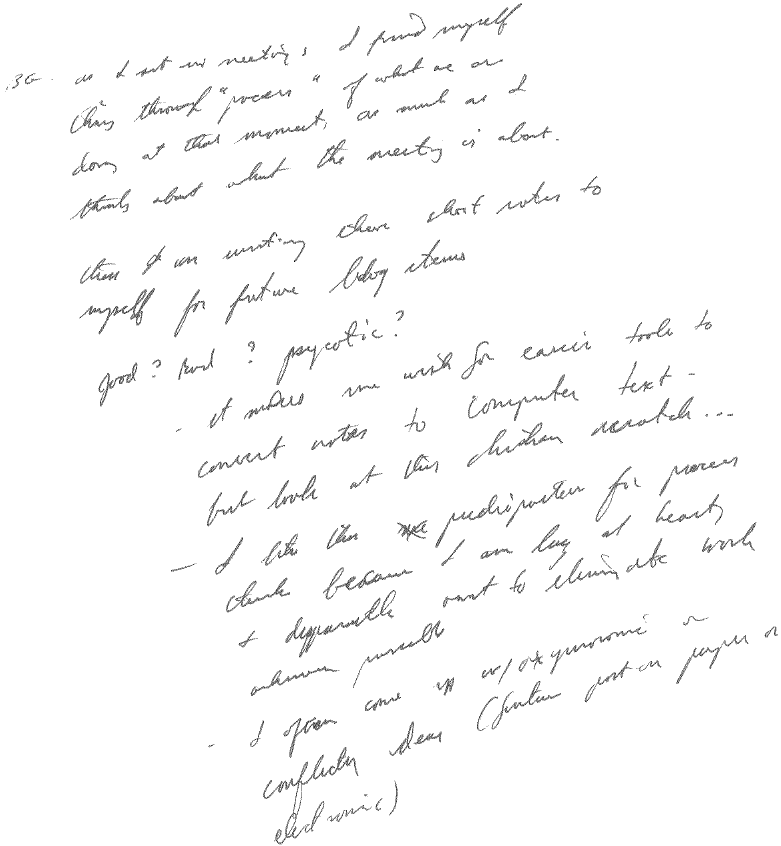 As I sit in meetings, I find myself thinking through "process" of what we are doing at this moment, as much as I think about what the meeting is about.
Then I am writing these short notes to myself for future blog items.
Good? Bad? Psychotic?
It makes me wish for easier tools to convert notes to complete text – but look at this chicken scratch …
I like these pseudo-postings for process think because I am lazy at heart, & desperately want to eliminate work whenever possible
I often come up with oxymoronic or conflicting ideas (faster posting on paper or electronic)
Last week, I created that memo to myself; I thought that it, unlike most of my stack of self-reminders, could stand on it's own as a complete thought. Now, as I rekey the text, I can't recognize a few key items, so hopefully I haven't lost too much of my original brilliance <g>.
Over the past few days, I saw these posts on the value of handwriting as a business too, and I thought of my chicken scratch. I suppose good penmanship is the unstated, critical prerequisite for conducting business in this manner.
Also, one has to appreciate the difficulty in handwriting recognition, and the somewhat unnatural constraints it puts on your note-taking style. Note above the changes in text size and orientation as I progress. This guy's struggle with colored bubbles sounds easier than capturing recognition algorithms for notes like mine!